MLB Urban Youth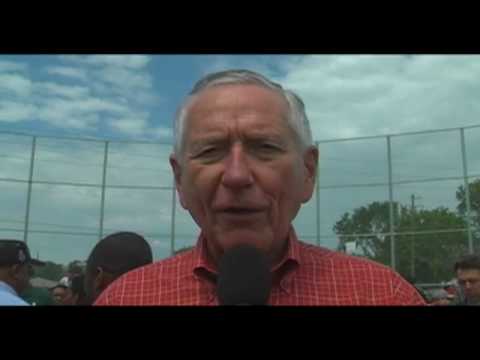 History
The Houston Astros MLB Urban Youth Academy is the second such facility in the nation to offer free year-round baseball, softball and education programs.
It is located at Sylvester Turner Park on Houston's north side and is modeled after the original facility established and operating in the Los Angeles area of Compton, Calif. The Academy has a show field with permanent seating for 500 fans — and space for an additional 1,800 fans, dugouts and lights. There's also one auxiliary field, two Little League/softball fields and 1,500 square feet of office space and other facilities.
Local high school, collegiate, current and former professional baseball players will run various Major League-caliber training camps and clinics throughout the year. The free programs will be offered to a minimum of 2,500 youth, with enrollment open year-round to all in the Houston area between ages 7-17.
Houston Astros MLB Urban Academy Mission Statement
To set the standard for instruction, teaching and education in Urban America through the strength of the National Pastime and to enhance the quality of life in the surrounding communities.
Objectives
We acknowledge that Baseball is truly "America's Game" and participation can help to effectively develop character and is critical for interpersonal development and success. Therefore we will work diligently and positively to develop in the youth we instruct: integrity, respect, accountability, character, self-discipline, personal responsibility and teamwork.
The Academy will build championship caliber major league players and solid major league contributors to society. We will instruct all aspects of the game of baseball in all areas of opportunity that our great game affords: maintenance and grounds keeping, umpiring, scouting and player development, sports journalism and broadcasting, statistics, athletic sports training, coaching, and many other aspects of professional and interpersonal development,
Program curriculum will include but is not limited to:
Major league quality baseball and softball instruction for all levels of youth participation starting at age 5 through high school

Camps and clinics offered weekly and or monthly for skill development of the youth in the local community

Camps and clinics offered quarterly for the development of coaches, umpires, athletic trainers and scouting theory

Educational programs developed in cooperation with the local accredited educational facilities to enhance personal development via individual determination

High level competitive baseball and softball tournaments to further enhance individual and team skill development

Organized baseball and softball leagues at every appropriate level to offer the National Pastime to all skill levels in the interest of personal growth and skill development

Host and partner community events to enhance the growth and development of the Nation's Pastime and create local community involvement
Staff
Academy staff will consist of former major and minor league players, instructors, collegiate coaches, scouts and certified athletic trainers.
The Major League Baseball Urban Academy will partner with the surrounding school districts, community colleges, universities and youth organizations, to provide educational programs and classes in athletic turf maintenance, statistics, umpiring, athletic training, journalism and broadcasting. Additionally we will provide tutoring and counseling for the purpose of academic and personal development.
Status
The Academy is a fully functional not for profit 501(c)(3) corporation and any and all donations are fully tax deductible according to federal guidelines and restrictions.
Programs and Partnerships
The Academy will serve as the "Bricks and Mortar" extension of all Major League Baseball youth supported programs. The Academy will partner with local and national Major League Baseball youth supported programs or leagues, to promote youth baseball and softball skills development via tournaments, leagues, camps and or clinics.
Hours of operation
The Academy will be open and operational year round.
Hours of operation when high schools are in session: 12:00 pm till 8:00 pm.
Weekend hours of operation: 6:30 am till 9:00 pm (Saturday), 9:00 am till 6:00 pm (Sunday)
Summer hours of operation: 6:30 am till 9:00 pm (Saturday), 9:00 am till 6:00 pm (Sunday)
Donate your baseball gloves
Wondering what to do with those extra baseball gloves in your closet or garage? Donate them today to the MLB Urban Youth Academy and help out an aspiring ballplayer.
Please send donations to:
Darrell Miller
Director, Urban Youth Academy
901 East Artesia Blvd.
Compton, CA 90221
Contact Us:
Houston Astros MLB Urban Youth Academy
2701 Victory Parkway
Houston, TX 77038
More Information click here! (http://mlb.mlb.com/mlb/official_info/community/urban_youth_houston.jsp)
[nggallery id=1]